Kim Walker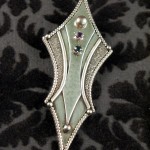 K
im is a Colorado silversmith artist. She discovered a fascination for Metalsmithing in 1973 from a remarkable teacher & through an exciting apprenticeship with two internationally renowned goldsmiths. She then refined her techniques while teaching and from decades of original and custom work.
In the Rocky Mountains of Bailey, her imagination is inspired with design ideas and challenged with the various possibilities for these hand fabricated pieces. Many styles combine sterling, 14-18 K gold, gems, crystals, fossils and arrowheads from around the region.
Kim's unique artistic creations are available at local mountain galleries, and festivals where you might find her demonstrating the fine arts of metalsmithing, weaving or beadwork.
She shares her experiences & creative diversity with others in the Colorado Metalsmithing Association, the Society of North American Goldsmiths, the River Canyon Gallery and served as past Director for the Cultural Council of Park County.